A selfie drone can be a quite expensive toy to acquire but it doesn't really have to be anymore with likes of the JJRC H37 ELFIE quadcopter. The mini sized drone is an aggressively priced one with interesting features fitted into a nice compact body. You could easily get this for your kid or teenager as it is simple to use with your smartphone. However, you have to consider the compromises which includes low resolution images and video with no video stabilization amongst other things.
JJRC H37 ELFIE Key Specs and Features
Cheap
Portable with foldable arms
720p image and Video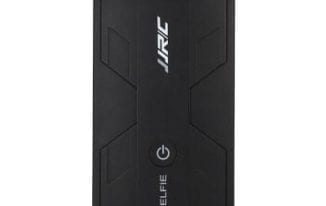 Design and Build
The JJRC H37 ELFIE has a compact build with foldable arms and easy to fix rotors. Unlike most drones out there the motor of this drone are aligned horizontally rather than vertically. Made from plastic, the drone has a tiny camera just in front with an adjustable lens. It is also quite portable with a dimension of about 135 x 65 x 26 mm. The power button is visibly placed on top of the drone where it easily accessible flanked by two white and red led light.
Performance
Flying the JJRC H37 ELFIE is pretty much easy, first you put it on by pushing the power button on top of the drone. Then you will have to connect to the WiFi network broadcasted by the drone after which you'll be have a first person view on your phone through the JJRC app. Videos and images are saved directly to your smartphone and has a maximum flight time of about 10 minutes. Speed marks starts at 30% then progresses to 60% and the max is 100% which which makes it get quite sporty.
Controls
It fits the MO that the JJRC H37 ELFIE quadcopter is controlled using virtual sticks on the JJRC app in your smartphone. This makes it seem more like you are playing a game on your smartphone with an additional gyro sensor which controls the drone by tilting your smartphone to the right or left. This will definitely be appealing to the younger generation with the its familiar gaming controls.
Video and Audio
With the budget status of the smartphone and the.midget size which doesn't carry much tech in it. There is only a 720 x 576 pixels resolution for videos and images, output is quite washed out and image stabilization is not available. Due to its light weight the drone can get quite jerky when hovering which makes pictures and video recording a bit blurry.
Pricing and Availability
You could get the JJRC H37 ELFIE for just $40 which is just about 15, 000 naira f different online stores around although this might go up depending on your location.
JJRC H37 ELFIE Specs
Here are a few specs of the JJRC H37 ELFIE :
General Features
Description: Quadcopter
Platform Support: JJRC App
Colours: Pink, Black
Processor: –
Memory: –
Storage: –
Motor Type: –
Dimension: 11.3 x 5.7 x 3cm
Weight: –
Camera
Resolution: 720 x 576 pixels
Video Recording: –
EV Range: –
Camera Angle Adjustment: –
FPV: –
Shooting Time Delay: –
Field of Vision: –
Features: –
Drone Experience
Sensors: –
Satellite Navigation: –
Flight Time: –
Maximum Altitude: –
Controller: –
Functions: –
Power
Battery: 500mAh
Charging Time: –
The post JJRC H37 ELFIE Specs and Price appeared first on Nigeria Technology Guide.