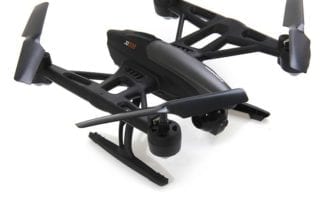 Toy drones like this one is the best way to learn how to fly a drone without being overly bothered about the cost. One of them under review at the moment is the JXD 509W, which is quite a package with a number interesting features to offer. Besides being more on the affordable side, the drone has a nice build and also an altitude hold feature that is just impressive. Let's have a good look at what the drone has to offer.
JXD 509W Key Specs and Features – 8 minutes of flight time
Headless mode, 360° flips, Altitude hold
3.7V 600mAh 30C Li Po battery
50m transmission distance
FPV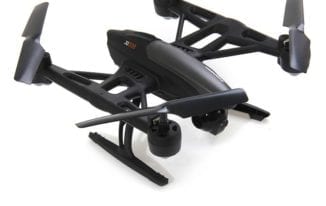 Design and Build
Typical of other drones, the JXD 509W has four propellers oriented horizontally from each other. Directly under each rotor, there is a white LED light at the rear and deep purple LED light up front to differentiate front from back. There is also a landing extension curved downwards, however, there seems to be no prop guard on this one.
On the outside, the drone, has an average size with a dimension of 300 x 300 x 96mm and weighs 140g. It is made from plastic like all other toy drones, an ABS plastic to be specific and the propellers are quite flexible so it does not easily break or bend. There is the battery space located at the bottom with cable connector sticking out.
Performance
Moving to how well the drone flies, you have what might be the best toy drone in its price segment as it comes with a smooth nice steady flight. The main point is the altitude hold this drone offers, where it stays in a certain height in the air why you do what you want to, whether recording, or snapping. There are other features too, like one key land, headless mode and automatic landing when the battery is low.
Did I mention that, it also has a barometer which is certainly one of the reasons it is so stable in flight and not to mention that it responds well to control. Following in the footsteps of other drones in its niche, there are three speed levels – low, medium and high.
Controls
As for the controls, the drones has a follow come controller from the box which has an extension at the top to accommodate your smartphone for FPV . You have several buttons on the box-like controller with throttle for controlling the direction of the drone. The buttons are labelled to make it easier to find your way around. The controller also broadcasts at 2.4GHz which is fairly impressive and has a range of about 100m.
Image and Video
The JXD 509W appears to be quite top of the line in the toy drone category with nice images and videos. This is partly due to its stable flight system and the altitude hold function also contributing. In the absence of a gimbal, this is the best you can expect, although, there is one downside. That is, the drone has a narrow field of view (FOV) and does not do much to capture much ground at a time.
Pricing and Availability
The JXD 509W us available for sale in various online stores for about 22, 000 naira depending on your location and the deal.
JXD 509W Specs
Here are a few specs of the JXD 509W:
General Features
Description: Mini Quadcopter
Platform Support: –
Colours: –
Processor: –
Memory: –
Storage: –
Motor Type: Brushless motor
Dimension: 30.00 x 30.00 x 11.00 cm
Weight: 140g
Camera
Resolution: 720p
Video Recording: –
EV Range: –
Camera Angle Adjustment: –
FPV: Yes
Shooting Time Delay: –
Field of Vision: –
Features: –
Drone Experience
Sensors: –
Satellite Navigation: –
Flight Time: 8 – 10 minutes
Maximum Altitude: –
Controller: –
Functions: Altitude Holder, One-Key Home Return, Headless Mode, Automatic Landing
Power
Battery: 600mAh 30C Lipo battery
Charging Time: 70 minutes
The post JXD 509W Specs and Price appeared first on Nigeria Technology Guide.