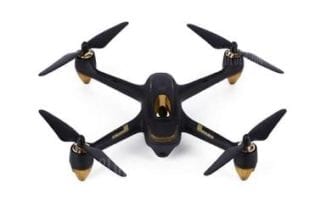 Husban is a veteran in the drone business with a number of these gadgets to their name already. One of those happen to be the Husban H501S X4 which is a mix of budget and features. Budget in the sense that, it offers quite a bunch of features at the price tag The small sized quadcopter is the definition of a well built long lasting drone with around 20 minutes flight time on a full charge. Also, I would like to point out that the drone does not come with controller batteries, extra rotors or any other extra spare parts.
Hubsan H501S X4 Key Specs and Features
GPS enabled
Headless mode, return home and altitude hold
FPV, Follow me mode
300m range control
6 -axis gyro sensor
About 20mins of flight time.
LCD built-in remote controller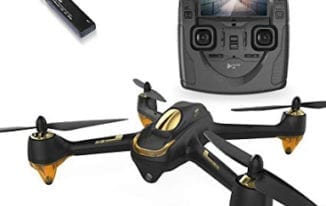 Design and Build
Being an affordable quadcopter the Husban H501S X4 is quite a good gadget you acquire with nice gold accents. The drone measures 220mm in size when measures from one 4otor to another diagonally. It happens that the drone is not foldable like the DJI Spark and does not have a designated landing gear rather the nudge beneath the rotor serves that purpose. The backdoor opens to reveal the battery compartment and connector.
In the same fashion as countless other drones, the Husban H501S X4 has a plastic build which helps to minimise the weight. Weighing 410g, the drone is quite compact but comes without a prop guard to protect the rotors. In addition, it has a brushless motor which is certainly the motor of choice in a drone.
Performance
The drone is a beginner drone one stacked up with nice features and a good enough range for a pleasurable flight. You could make use of the quadcopter for your personal vlogs, vacation site-seeing tool and so on, however, a professional pursuit would certainly require you to go for a more expensive model. Adife, it boasts of features like Headless mode, one-key return, altitude hold and first-person view on the remote controller.
Controls
There is no third party app involved in navigating the drone. It is controlled solely by the remote controller from the box. On the controller, there are several buttons and switches tasked with activating a number of different modes. Also, there is a 3.7-inch screen built on the controller for the fpv function with altitude, distance from the remote, GPS coordinates and other data on display. Transmission of FPV footage is at a frequency of 5.8GHz while the controls are done at 2.4GHz to avoid mix up.
Image and Video
On paper the Husban H501S X4 appears to be of great quality up to a full HD+ resolution in recording. However, it appears more or less washed out and without colour plus there is no gimbal or images stabilization. On the other hand, all of this can be stacked up to the low price tag of the drone. The camera is also fixed and there is no way of moving it during flight and all the images and videos are stored on a microSD card inserted into the drone.
Husban H501S X4 Pricing and Availability
The drone is available on sale on various online stores for about 120, 000 Naira depending on the deal and location.
Husban H501S X4 Specs
Here are a few specs of the Husban H501S X4:
General Features
Description: Quadcopter
Platform Support: –
Colours: Blavk
Processor: –
Memory: –
Storage: –
Motor Type: Brushless motor
Dimension: 22 x 22 x 7cm
Weight: 410g
Camera
Resolution: 1080p
Video Recording: 1080p
EV Range: 300m
Camera Angle Adjustment: –
FPV: Yes
Shooting Time Delay: –
Field of Vision: –
Features: Altitude Hold, Headless Mode, Follow Me Mode, OSD Live data, One-Key Return
Drone Experience
Sensors: barometer, 6-axis gyro sensor
Satellite Navigation: GPS
Flight Time: 18-20mins
Maximum Altitude: –
Controller: Yes
Functions: –
Power
Battery: 2, 700mAh Lipo battery
Charging Time: 160mins
The post Hubsan H501S X4 Specs and Price appeared first on Nigeria Technology Guide.